The Image is Everything Story: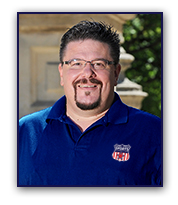 Frank Cugini
President
Semi-pro Sports Marketing
I started in advertising and marketing in 1990. I have owned my own business since then and how I market my business has been a key to my success. During that time I spent 12 years as the web marketing firm for the Lansing Lugnuts and 3 years with the Montgomery Biscuits - both are MLB affiliated teams and are highly regarded in the minor league baseball industry for their marketing efforts. My Lugnuts website was even featured in Sport Illustrated.
Coming from an advertising agency background I have come to realize that "In Marketing - Your Image is Everything!" I have tried to always apply that to all aspects of my business endeavors. Five years ago I became involved with the Capital City Stealth - Lansing, Michigan's Semi-Pro Football Team. Over the last three years the owner of the team has let me help reshape the image of the team. First with a new logo and branding, then with a new website and finally branding and marketing. With the new professional look we have found it much easier to secure a home field, sell sponsorships and put butts in the seats! ...and each year we have had more and more success! Going in to 2015 we have more income and can afford to produce the marketing materials and buy the advertising that will result in more butts in the seats ...and we are also moving to a new $1.5 million home field and stadium.
Professional Image = SUCCESS! ...and it doesn't have to cost you a ton of coin!
In looking and talking around in the Semi-pro Football industry I have found that there are many questions and much interest in what we have been doing to succeed. Well, the Quick Answer is...IN MARKETING - YOUR IMAGE IS EVERYTHING! If you present a professional image you will get professional results. If you look like a bunch of guys playing football instead of softball then you will always struggle to get businesses and fans to take you seriously.
Below you will find areas that Semi-pro Sports Marketing can help you with! Everything from Logos and Branding to Business Cards, Stationary, Posters, Flyers & Banners. We can help build your fan base with Player Cards, Facebook Pages and Professional Websites. Most importantly - we can help you with one-on-one marketing consulting.
Creative financing options are available - call for details.
Remember...In Marketing Your Image is Everything!